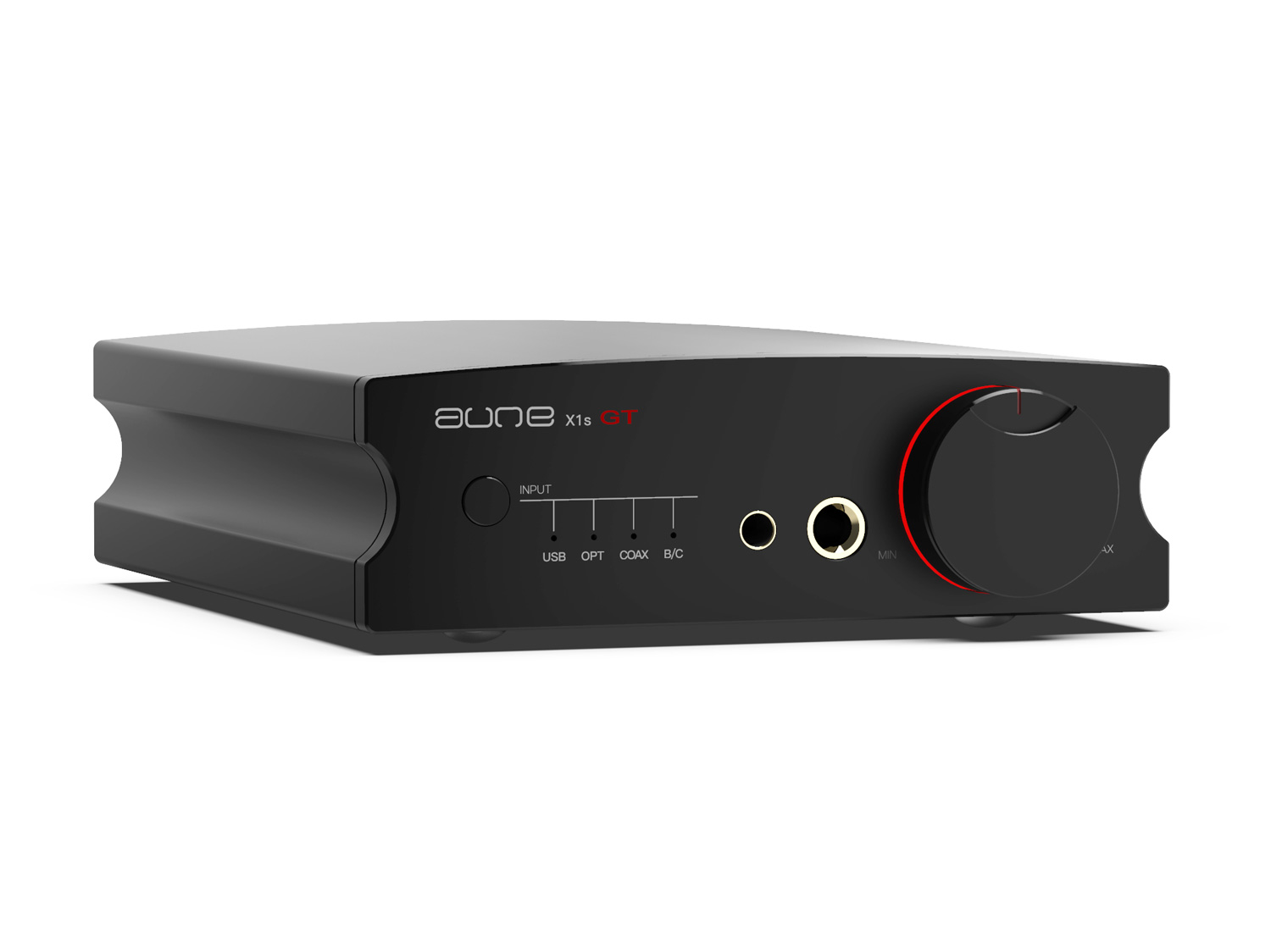 Aune X1s GT DA-Converter Headphone Amplifier Hi-Res
---
Hi-Res DAC Headphone Amp
Discrete Amplifier with 4 x 24 BJTs

PLL-Core - precise Algorithm

32bit/768k DSD512 Ideal DoP

External Clock support
---
---
RRP EUR 319.00
EUR 259.90
*
Ready for shipping, delivery in 1-3 days
---


Aune X1s GT
Digital-Analog Converter with Headphone-Amplifier
The Milestone
PPL-External Clock Support-4.4 Balanced
 The X1s GT, as the 8th Gen of the classic X1 series, innovatively added clock input with PLL clock technology and the complex fully-discrete headphone amplifier. It is a "hot-hatch" level multifunctional DAC with headphone amplifier.
---
Over a Decade 8th Generation

The X1 series was created back in 2008. Once the 1st gen was released, the innovative combination of USB DAC and high-power headphones amp attracted extensive attention worldwide and has been continuously well received till this day. Over the years, it has become one of the classic DAC with headphones amp products and also Aune's signature series. The new X1s GT added clock technology and fully-discrete balanced headphone amp. It's destined to be a milestone of the series.  
---
Vast Improvement of the Sound "HiFi" Your Computer

With a computer the X1s GT can support up to 32 bit/786k DSD512. Play the Hi-Res music files or music from Apple Music HiFi online library. Get the high fidelity experience right away. Let it bring out your headphones/active speakers' free potential.
---
Ideal DoP Coacial Support
Without a PC You Can Reach 384k DSD128 Too
An X5s 8th Anniversary Edition digital music player, an X1s GT - the combo supports up to PCM384k and DSD128. Plug in your headphones or active speakers. Enjoy the fine little audio system.
---
"Hi-Fi" Your Smartphone/Pad
Light & Fun

A Smartphone/Pad, together with an X1s GT, immediately turns into a mastertape-level streaming media center. Plug in your headphones or active speakers. The light system brings you great listening joy.
---
PLL Core
Precise Algorithm

The PLL (Phase Locked Loop) clock core that took 200 days to develop has this complex and precise algorithm which enables it to output the corresponding frequencies to the DAC, thus achieves the whole device' clock synchronization. The sound is more natural and refined.
---
External Clock Support
More Possibilities of the Sound

The X1s GT innovatively added PLL technology and 10 MHz external clock input port. It's open to various high-quality clocks (aune XC1 recommended). More room for your exploration of the sound.
---
"Full-Time 4WD"
Fully-discrete 4 Amps, Drives Your Headphones to the Full
The upgraded version of the classic B1 fully discrete headphone amp circuit, 4 x 24 BJTs, 227 components in total, positive and 9V power supply, balanced output. It just drives your headphones right and well.
---
4 "Drives Mode"
Your Needs in Different Scenarios Are Taken Care Of

Rather than ES9038 series default filter modes, the X1s GTS has its especially designed filter modes with our own algorithm: mode 1 and 3 for general use, 2 and 4 for headphones, carefully responding to your needs different listening scenarios.
---
Communication-Level PCB
The Invisible Excellence of GT

Even the PCB has got something. The X1s GT uses the communication-level SR PCB, which leads to better high-frequency performance and better details. The GT spirit shows everywhere.
---
Classic Potentiometer
The Fun of Manual Control
The ALPS potentiometer guarantees uncompressed dynamic. Feel the tactile volume knob and experience the fun of manual control. It's all in your hand.
The X1s GT has a special red light design, adding a shade of passion. The long-time visual test and adjustment under different light conditions makes the red light just comfortable to the eye and not steal the show break (A long press on the button can turn it off). The focus is always music.
---
Classic "X" Arc-Shape Design
Feel the Aesthetics of Arc and Simplicity

The special design of arc-shape has been X1s' signature. The charm just lingers.
---
GT,
The High-Performance Edition

The X1s GT has as many as 733 components, which has reached the scale of advanced DACs with amps.

High quality hardware, regardless of the cost – chassis from the top supplier, high-quality MEAN WELL custom power adapter with global certifications, C0G/FK capacitors, communication-level SR PCB - whether it's visible or invisible to you, we put our hearts there.

Innovative technology and professional adjustment - PLL core, external clock input, clock synchronization, positive and negative 9v power supply, fully-discrete balanced headphone amp, 700mA quiescent current, outstanding specifications, aesthetic tuning.
---
Outstanding Specifications
Lower THD+/Noise, Higher Resolution

Aune never stops. This time, the X1s GT exceeds all its predecessors and reaches THD+N as low as 0.00013% and noise as low as 1.92µV. Higher fidelity. Better details. Darker background. Excellent specs is the basis of excellent sound.
---
Aesthetic Tuning
The tuning is based on real instrument sound and music pieces referencing, leading to the signature that is natural and full of musicality.
---
---
---
---
---
---
---
---
---
Item reviews ()
---
---
Loading reviews...
Do you really want to delete?
There is no verification of the authenticity of the reviews - only reviews marked with "Verified purchase" are checked for authenticity.
---